HY-2000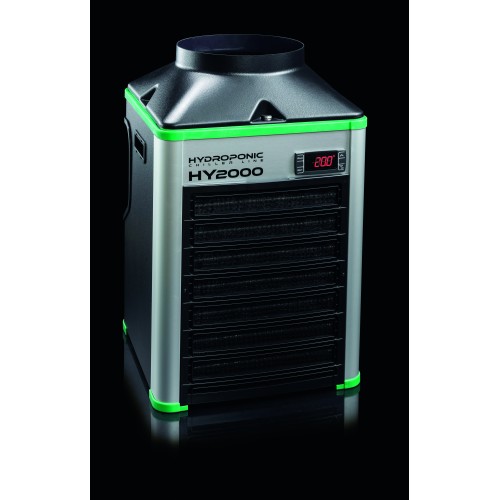 Chiller Technical
Aquarium Size
between 130-500 gallons
Horsepower
1/3 HP
Wifi Capable
YES
Maximum Pressure
8.7 psi
Minimum Flow Rate
159 gallons per hour
Maximum Flow Rate
211 gallons per hour
In/Out Water Connection
5/8" tube diameter
Exchanger
Titanium
Supply
120V-60Hz
Power Consumption
440 Watts
Gas/Refrigerant
R134a
Minimum Set Point
41°F
Maximum Set Point
95°F
Weight
47.4 lbs (21.5 kg)
Dimensions
12.2" x 12.2" x 19.69"
Cooling Performance
The ability of the HY-2000 to pull down temperatures in a 86°F room:
| | | | | |
| --- | --- | --- | --- | --- |
| Aquarium Size | Temp. Attainable | Heating Load | Net Pull-Down | C.O.P.* |
| 530 gallons | 77°F | 1.89 Watts/gal | 9°F cooler | 2.2 |
| 105 gallons | 47°F | 0.38 Watts/gal | 39°F cooler | 1.4 |
* Coefficient of Performance (COP) - a numerical value that represents cooling performance from a baseline room temperature of 86°F and a typical heat source (aka. Heating Load)
HY-2000
Shipping & Handling Extra **** Ground or Expedited
for medium systems & aquariums up to 500 gallons
The new TANK® chiller line is the next generation of TECO's flagship SeaChill™ aquarium chillers—used by consumers and professionals for over a decade. The TECO TANK is the result of one of TECO's most ambitious and comprehensive redesigns of the SeaChill aquarium chiller to-date. New changes include an increase in cooling efficiency and improved usability, functionality, and durability.
EFFICIENT COOLING TECHNOLOGY
Internationally-recognized high-end compressors and titanium coaxial heat exchangers provide high performance, low energy consumption, and low noise levels.
BUILT-IN HEATER
The TANK® TK-2000 comes standard with a heater built into the unit (previously, had to be purchased and installed separately). The built-in heater provides better control over water temperatures and can be operated through the digital thermostat.
DIGITAL THERMOSTAT
Intuitive controller with accurate temperature detection from 32 to 95°F. Closed loop temperature control system with an extremely tight differential of 1°F. Displays in °F or °C, and audible alarms for certain situations.
EFFICIENT DESIGN
A solid and durable structure designed to guarantee near perfect protection against corrosion. Rotatable in-set water connections, rotatable exhaust conveyor, and smaller form-factor help facilitate placement of chiller in confined spaces.
Stock:

In Stock

Model:

HY-2000

Weight:

47.40lb

Dimensions:

12.20in x 12.20in x 19.69in

SKU:

A1AC0TK2000

ISBN:

8028377005147