TK-15K Heat Pump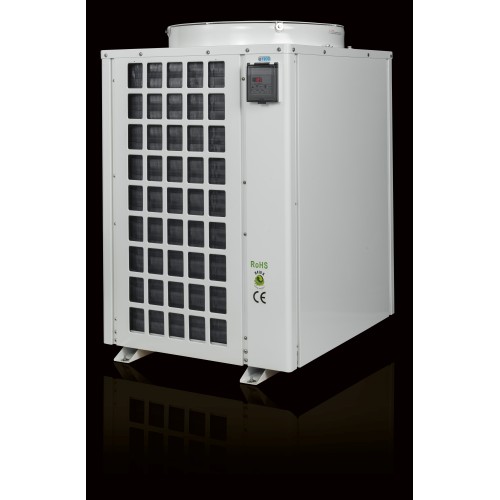 Chiller Technical
Aquarium Size
please contact us for specific sizing
Horsepower
6 HP
Maximum Pressure
29 psi
Minimum Flow Rate
1717 gallons per hour
Maximum Flow Rate
2113 gallons per hour
In/Out Water Connection
1.5" tube diameter
Supply
240-volts, 60Hz - 3 phase/15.2 Amps
Gas/Refrigerant
R410a
Cooling Power
14.60 kW
Required Breaker
60 Amps
Cooling Power Consumption
6900 Watts- 23500 BTU/hr
Heating Power Consumption
4100 Watts - 14000 BTU/hr
Working Modes
Cool, Heat
Dimensions
26.18" x 28.54" x 41.02"
TK-15K Heat Pump
Shipping & Handling Extra **** Ground or Expedited
6 HP, 240V-60Hz, 3 phase
The TECO TK-series Heat Pumps are high-performance units designed for aquarium applications. These heat pumps are built with high-quality materials, even the smallest components.
HIGH-PERFORMANCE REFRIGERATION TECHNOLOGY
TK Heat Pumps use internationally-recognized rotary compressors with a titanium coaxial heat exchangers to ensure low-energy consumption while sustaining the highest in performance throughput. The technology in these heat pumps allows one to decrease noise levels and achieve a high COP (coefficient of performance) contributing to significant energy savings.
DIGITAL THERMOSTAT
The setting of functions is intuitive and the temperature detection is accurate, resolution 0.5°C/1°F. The setting range is 5°-40°C (41°F-104°F) and there is a closed loop temperature control system with high accuracy and extremely tight differential 2°C/5°F. Displayed temperature is in °C or °F and there are security alarms. Possibility to control remotely the display using supplied cable, degree of protection IPX4.
EFFICIENT DESIGN
The unit is characterized by a solid structure and was designed to provide maximum oxidation protection--great for use with salt-water.
UNIQUE FEATURES
TK Heat Pumps are also suitable for many industrial applications.

Only 2 Left in Stock, Act Fast

Stock:

In Stock

Model:

TK-15K Heat Pump

Weight:

286.60lb

Dimensions:

26.18in x 28.54in x 41.02in