TK-9000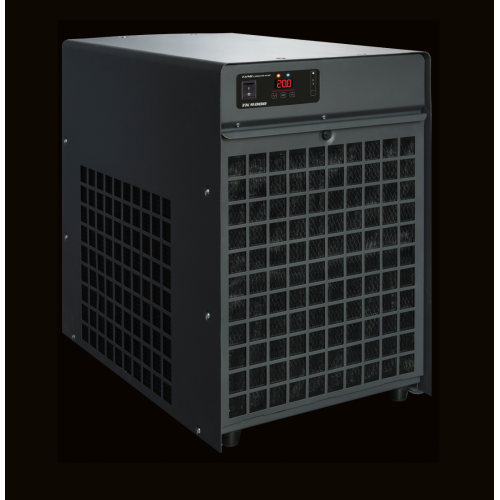 Hot
Chiller Technical
Aquarium Size
up to 1850 gallons
Horsepower
1.5 HP
Maximum Pressure
14.5 psi
Minimum Flow Rate
793 gallons per hour
Maximum Flow Rate
1057 gallons per hour
In/Out Water Connection
1" ID (Inside Diameter)
Exchanger
Titanium
Supply
120V-60Hz
Power Consumption
1200 Watts
Gas/Refrigerant
R410A
Weight
103.7 lbs (47 kg)
Dimensions
23.62" x 15.55" x 22.24"
Cooling Performance
The ability of the TK-9000 to pull down temperatures in a 86°F room:
This information is currently unavailable.
TK-9000
Shipping & Handling Extra **** Ground or Expedited
tk-9000: for large systems & aquariums up to 1850 gallons
The new TANK® chiller line is the next generation of TECO's flagship SeaChill™ aquarium chillers—used by consumers and professionals for over a decade. The TECO TANK is the result of one of TECO's most ambitious and comprehensive redesigns of the SeaChill aquarium chiller to-date. New changes include an increase in cooling efficiency and improved usability, functionality, and durability.
EFFICIENT COOLING TECHNOLOGY
Internationally-recognized high-end compressors and titanium coaxial heat exchangers provide high performance, low energy consumption, and low noise levels.
DIGITAL THERMOSTAT
Intuitive controller with accurate temperature detection from 32 to 95°F. Closed loop temperature control system with an extremely tight differential of 1°C. Displays in °F or °C, and audible alarms for certain situations.
EFFICIENT DESIGN
A solid and durable structure designed to guarantee near perfect protection against corrosion. Rotatable in-set water connections, rotatable exhaust conveyor, and smaller form-factor help facilitate placement of chiller in confined spaces.
* Each unit can be customized to include up to 4 Heaters/4 UV Lamps or any combination, up to 4 total pieces. Select 'Blank' for any spaces you would like left empty. If interested in using this unit for CHILLING ONLY, select 'Blank' for all listed options below **
Stock:

In Stock

Model:

TK-9000

Weight:

203.70lb

Dimensions:

23.62in x 15.55in x 22.24in

SKU:

A1AC0TK9000